"Rural Migrantour. Paths of Recovery" is a two-year project (March 2021-February 2023) funded by the European Union's Erasmus+ programme. The project is coordinated by Terra Vera, a Slovenian NGO working in the field of social solidarity, integration, environmental protection and ethical economy. Since 2018, Terra Vera has been developing Migrantour Ljubljana. The project partners are: Viaggi Solidali, which established a local partnership in Italy with FIERI, Nuto Revelli Foundation and the social cooperative Jungi Mundu; Paths of Greece (Greece); LAG Svilegrad (Bulgaria) and Pocket Stories.
This new project builds on the solid pill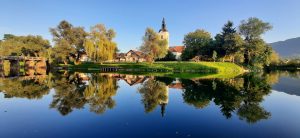 ars of the experience gained in a decade by the European network "Migrantour. Intercultural Urban Routes". After having worked for a long time in urban areas, our initiative now focuses on small rural centres. This choice moves from two reflections. Firstly, we must recognise that migration has also played an important role outside big towns and cities, both in the past and in the present: consider, for example, the impact of cross-border mobilities or the role played by the widespread reception of migrants and refugees in revitalising small villages in mountain areas. The second consideration is linked to the recent Covid-19 pandemic, which from 2020 onwards has triggered a profound reconfiguration of tourist mobility. With long-distance and cross-border travel no longer possible, health precautions have encouraged domestic mobility, which is mostly directed towards ecotourism.
"Rural Migrantour" aims to achieve two main objectives:
The creation of at least one intercultural rural route in each of the countries involved in the project:  an itinerary designed through participatory tools involving people with migrant background trained to become intercultural companions.
The creation of digital contents related to the role of migrations in rural areas that can be shared online in order to foster interactive exchanges and enrich the intercultural walks.