Migration flows have always shaped society and urban landscapes by bringing cultural richness and social innovation, which unfortunately, however, are not sufficiently recognized. In many countries, the strengthening of ultranationalist and xenophobic policies risks exacerbating social conflicts. The pandemic emergency and its economic consequences have also contributed to the deterioration of social cohesion. It is often overlooked that most refugees and migrants are simply struggling to rebuild their lives, create a network of social ties, become economically self-sufficient and gain a sense of belonging.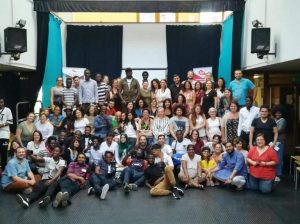 In this context, it is all the more necessary to find solutions that start with the direct involvement of local communities, starting with the discovery of the cultural heritage stratified in the places most characterized by the presence of migratory flows such as large European cities.
Active from spring 2021, the "Migrantour Sustainable Routes" project follows in the footsteps of Migrantour's well-established experience, proposing urban intercultural tourism walks led by citizens of migrant origin, which aim to raise awareness of the migration phenomenon and foster social inclusion.
Specifically, it aims to:
Create new Migrantour itineraries enriched with audio-video content in all partner cities inspired by the principles of Agenda 2030, the result of the exchange between network cities.
Create an online toolkit (available in all partner languages) for training Migrantour guides that incorporates best practices from across the Migrantour network.
Create a digital archive of interactive narrative maps of Migrantour routes throughout Europe to preserve the cultural heritage of Migrantour walks.