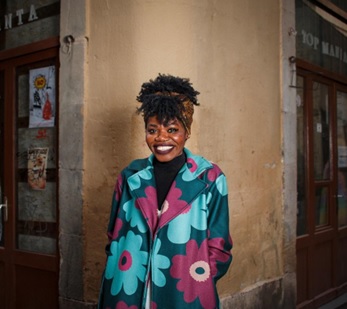 My name is Silvia, although I prefer to be called Perla, I was born in Equatorial Guinea and grew up between Cameroon, Gaboon and Spain (Barcelona).
I have been known as Afropoderossa since 2017, when I decided to create my social media account to share my transition from straight afro hair with chemical straightening to natural afro hair. In this process, I shared my own afro product recipes to motivate afro women to grow their natural hair. Since then, I have been dedicated to giving visibility to the afro population in Spain as well as sharing relevant information from the African continent. My social networks are a perfect place for reflection and learning.
I came to Migrantour through social networks, it seemed like a really interesting project and I joined the training to act as a guide through migrant experiences. I am from a country that was a Spanish colony and the history of my country is closely linked to Spain and vice versa, but in Spain it is invisible. Migrantour serves as a perfect tool so that migrants can not only act as guides in the places with the most history and diversity in Barcelona. But we can do it through our own history.