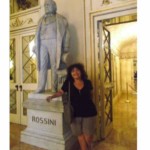 My name is Margarita and I am an art teacher. I was born in Buenos Aires. I studied in my country and validated my degree in Madrid.
I live in Milan and though I am Italo-Argentine, I feel like a citizen of the world because my father was Catalan and my mother Italian.
I like living in this city because when I arrived everything was very familiar to me. My grandfather, with whom I grew up, was Milanese, while my mother used to recount her journey to Italy as she saw it with a child's eyes.
For me the most important thing about being here is being in contact with Art; it's same thing when I am in Spain.