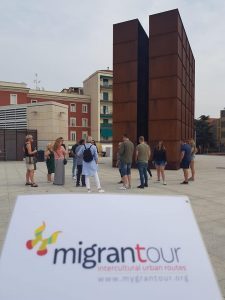 The project "Our Invisible Cities. Encounters and New Narratives of the World in the City" is a global citizenship education initiative aimed at countering incorrect and discriminatory representations of migration and cultural diversity. It is promoted by ACRA, with co-financing from the Italian Agency for Cooperation and Development (A.I.C.S) and implemented in partnership with ass. Amici di Sardegna, coop. Casba, Fondazione Pubblicità Progresso, Fondazione ISMU, ass. Next Generation Italy, Oxfam Italia, coop. Progetto Con-Tatto, ass. Trame di Quartiere, Viaggi Solidali, City of Milan, City of Turin and International Research Centre on Global Citizenship Education – University of Bologna.
The initiative, active for 24 months from March 2018 in 10 Italian cities (Bologna, Cagliari, Catania, Florence, Genoa, Milan, Naples, Pavia, Rome and Turin), intends to contribute to the dissemination of a new narrative based on the equal dignity of the Other and the enhancement of the contribution of yesterday's and today's migration processes to our society through access to correct knowledge of the phenomenon and public awareness through mass media, social networks, web and face-to-face meetings. Migrantour's intercultural walks are therefore one of the tools of awareness and exchange valued in the framework of the intervention.
The project aims to disseminate innovative models of citizenship, through paths of encounter and awareness that act on multiple levels (institutional, social, cultural and communicative) and multiple actors (young people, citizens, local authorities, institutions, media) in order to build a sense of belonging to a wider community and a sense of responsibility towards the Other.
Key actors such as local administrators, journalists, social workers and teachers are mobilized, as well as the associative realities of city neighborhoods in the construction of physical (intercultural itineraries) and virtual (communication campaign and public engagement) paths aimed at narrating and conveying the value of cultural diversity.