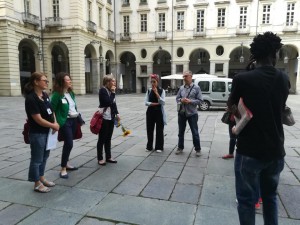 As part of the new European project NEW ROOTS, the first trials of the so-called "Welcome Tour" walks have been held in recent months (May-June): this is a welcome walk aimed at newcomers, asylum seekers and refugees designed and led by foreign nationals who have been living and working in our cities for several years and who are involved as intercultural companions in the MIGRANTOUR Project.
These welcome itineraries are designed to introduce newcomers to the cities where they now find themselves living among services useful to them, history, culture… and much more in order to give them the right references to orient themselves.
Thanks to the project, the partners involved in the Migrantour network will have the opportunity to offer numerous Welcome Tours walks for FREE throughout 2018 and 2019.