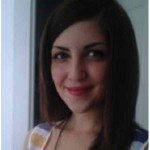 I am Gloria, I am 22 years old and live in the suburbs of Milan.
I study linguistic and cultural mediation and love foreign languages (I speak English, German, Spanish and Russian and would like to spend my life studying many others), good Italian or international food (which Milan is well provided for) and every kind of art.
I am Italian though I prefer to define myself a "citizen of the world": when able, I travel and get to know the ways of life of other countries… it goes without saying that I am thrilled to be one of the guides on the "intercultural walks". I will be happy to introduce you to the cultural richness that Milan offers – you will be pleasantly surprised!